Maintaining Your Healthy Smile
Restorative Dentistry Bismarck
Family dentistry at our Bismarck practice deals with all that is related to the health and function of the teeth. This includes focusing on preventative care for the entire family, to providing conservative white fillings for children, the treatment of infected or damaged teeth, gums, and surrounding tissue. It also calls for restoring aesthetic aspects of the smile.
Brielle Renz, D.M.D. and Everett E. Heringer, D.D.S., assisted by their talented team of professionals extend a full range of family services. Whether you require a complex procedure or a simple filling, our practice can help. The dentists may also choose in consultation with the patient to incorporate a cosmetic treatment in order to balance the visible results of the procedure.
Dental Exams & Cleanings
At Heringer Dentistry LLC, your comprehensive dental exam will be performed by our dentist. Regular check-ups are recommended thereafter for prevention and early detection. At our Bismarck office, your regular check-up exams include; dental x-rays, gum disease evaluation, intra-oral photos, oral cancer screening, examination of tooth decay, and examination of existing restorations.
Your cleaning appointment will be completed by our team of professional hygienists to clean plaque and calculus from your teeth. Fluoride treatments are provided for children and adults when appropriate. Our hygienists will also discuss your home care techniques and may recommend certain products that will assist in your home care program. A healthy mouth is paramount prior to smile enhancement procedures.
Our use of advanced technology and comprehensive approach ensures that you and your family will experience comprehensive dental care in a welcoming, comfortable environment. We would be honored to become your number one choice for your family dental care.
Our dentist conservatively fills cavities using white composite or tooth-colored fillings. A much more practical alternative to silver amalgam fillings, white fillings are extremely popular with our patients. We can beautifully match the color of your existing teeth with this straightforward option!
Micro dentistry refers to the process of conservatively restoring decayed teeth, usually after cleaning the affected areas with technology such as Waterlase®. The purpose of this restorative method is to keep your teeth strong and healthy, while removing the least amount of tooth structure possible.
See More
Whether a patient is missing one tooth or many, dental implants can serve as an excellent restorative solution. Dental implants provide a permanent and aesthetically pleasing solution to missing teeth and allow patients to regain the full function of their mouths.
Another implant option offered by Dr. Heringer is the All-on-4® implants treatment. This treatment is a great option for patients who cannot afford a full set of dental implants, as well as for patients who are looking for a quick and efficient solution to a full mouth of missing teeth.
See More
Inlays & Onlays
Typically made from gold, porcelain or composite resin, our dentist can employ this type of restoration to treat mild to moderate tooth decay, mildly cracked teeth, and damaged or old fillings. Inlays are necessary when decay or damage is present in the top surface of the tooth. Onlays are necessary when decay stretches to more than one tooth surface. Inlays and onlays may be alternatives to crowns or fillings.
Porcelain dental crowns act as a protective cap for a damaged tooth. Dr. Renz and Dr. Heringer can strengthen and shape your tooth using well-matched tooth-colored material. Crowns may also be used as anchors for dental bridges to correct missing teeth.
See More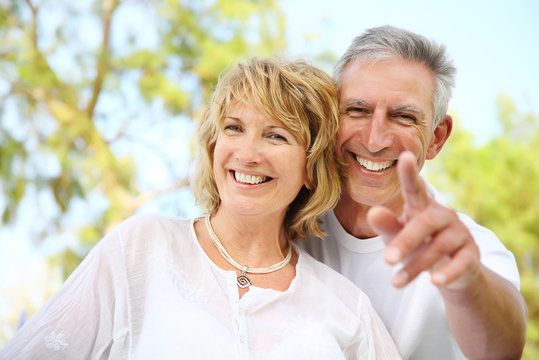 Our dentist can resolve issues brought about by one or more missing teeth with this treatment. A dental bridge essentially reinforces the jaw by anchoring porcelain crowns on either side of a prosthetic tooth or teeth.
See More
The dental practice of Dr. Heringer wants to be your "one-stop shop" for full mouth reconstruction. Patients with extreme dental health problems should know they've come to the right place; our caring dental team creates a safe environment to repair the most severe smile conditions with a variety of restorative procedures, often drawing on cosmetic dentistry to complete the process.
See More
Closed Crown Lengthening
Dr. Heringer aims for the most subtle restoration possible when it comes to dental treatment. In some cases, he utilizes laser crown lengthening, non-surgical techniques to meet his patients' goals. The purpose is to expose a greater amount of tooth structure and remove a miniscule part of the bone. Depending on the needs of the patient, the procedure can be employed to make the placement of a dental crown or veneer possible or to expose more usable bone structure. The periodontal procedure can often be done in a single appointment, does not require sutures, and allows for faster, restorative results.
Restorative & Short-term Orthodontics
Dr. Heringer has the training and experience to virtually correct crooked and misaligned teeth right away! Please ask him about Invisalign® aligners, also known as "invisible braces." These clear, custom-fitted retainers are as effective as traditional braces, but offer a number of advantages that make them a popular treatment option with our patients. Or you may be a candidate for our Six-Month Smiles® short-term, orthodontic treatment. Porcelain veneers are another option to mask misaligned teeth even more quickly.
Dr. Renz and Dr. Heringer's services encompass many more oral health options. For instance, they perform root canals when tissue has become infected in order to save the tooth, or periodontal therapy for more serious disease. They can also treat TMJ disorder, gum disease, and many other ailments that may be diagnosed during your dental visit.
If you would like to take the first step in family dental care or bringing back your oral health, please contact us to schedule your comprehensive exam. Our practice offers the latest restorative dental care for families in Bismarck, as well as greater North Dakota, South Dakota, Montana, and Canada.
Contact Us