Signs Your Dentures Need to Be Replaced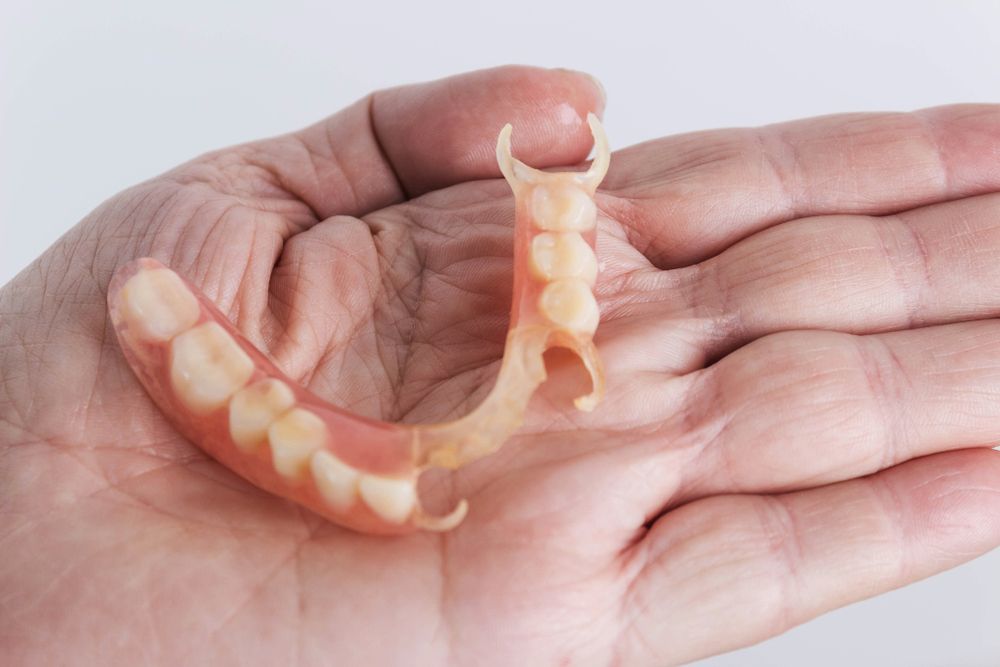 Dentures are an affordable tooth replacement option. These custom-made prostheses fill in gaps and spaces to restore the aesthetics and function of your smile. Although dentures are made from strong, resilient materials, they will not last forever.
At our Bismarck, ND practice, Dr. Heringer discusses signs that indicate your dentures need to be replaced. We also explain how patients can upgrade their current dentures with dental implants.
Does Your Denture Need to Be Replaced?
Traditional full and partial dentures are an excellent way to replace missing teeth. However, it is important to understand that they will need to be replaced at some point. Conventional dentures have a lifespan of approximately seven to 10 years.
Your Dentures Are Loose
Are your dentures fitting differently all of a sudden? Loose, wobbly, or ill-fitting dentures are among the first signs that it is time to replace your appliance.
Once tooth loss occurs, the jawbone slowly erodes over time. As this process continues, your dentures may fit differently. If the changes are mild, your dentist may be able to reline your denture and make a few minor adjustments.
However, if the dentures are causing functional issues, such as difficulty eating or speaking, you may need a new set.
Your Dentures Are Uncomfortable
If your dentures were once comfortable and now they are not, it is a good idea to see your dentist. The constant changes in the underlying jawbone can lead to discomfort.
Your dentures should never be painful to wear. Therefore, if you are experiencing these types of issues, schedule an appointment right away.
Your Dentures Are Broken
Dentures are made from strong materials, but they can still become damaged, especially if dropped on a hard surface. (For this reason, we recommend placing a folded towel on the countertop or in the sink when you are cleaning your dentures.)
If the artificial teeth on the denture have broken off, we may be able to repair your prosthesis. If the pink denture base is broken, however, you will likely need a new appliance.
Your Dentures Are Difficult to Clean
Do you notice more food deposits on your dentures than you used to? If your dentures are difficult to keep clean, it could be due to the changing fit of the prosthesis.
While the appliance used to fit snugly against your soft tissues, bone loss has likely caused a space between the gums and the denture. As a result, food can become trapped in this gap. If you notice this, call your dentist for an appointment.
You Have Sore Spots on the Gums
Loose-fitting dentures slip and wobble. In turn, this can cause sore spots or lesions to appear on the gum tissue. This not only causes discomfort, it also makes patients more susceptible to oral infections, such as thrush.
Upgrade Your Denture with Dental Implants
Many of our patients have chosen to upgrade their traditional dentures with implant-supported dentures. Dental implants replace missing teeth roots and provide strong, durable anchors for your appliance.
Imagine being able to eat all the foods you want without worry. Implant-supported dentures "snap" into place and stay put throughout the day.
Contact Heringer Dentistry Today
If you are interested in learning more about denture replacement or upgrading to an implant-supported denture, schedule an appointment with Dr. Heringer. Call our practice at (701) 255-4850 or contact us online anytime.
Related to This